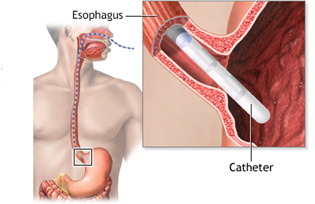 Esophageal Manometry
Esophageal manometry is a test used to measure the function of the lower esophageal sphincter (the valve that prevents reflux of gastric acid into the esophagus) and the muscles of the esophagus (see diagram). This test will tell your doctor if your esophagus is able to move food to your stomach normally. Knowing why you might be experiencing a problem with your digestive system, helps to understand the swallowing and digestive processes.
During the manometry test, a thin, pressure-sensitive tube is passed through the nose, along the back of the throat, down the esophagus, and into the stomach.
More About Esophageal Manometry
The esophageal manometry test may be given to people who have the following conditions:
Difficulty swallowing
Heartburn or reflux
Non-cardiac Chest pain
Prior to anti-reflux surgery
Your esophagus moves food from your throat down to your stomach with a wave-like motion called peristalsis. Manometry will indicate how well the esophagus can perform peristalsis. Manometry also allows the doctor to examine the muscular valve connecting the esophagus with the stomach, called the lower esophageal sphincter, or LES. This valve relaxes to allow food and liquid to enter the stomach.
It closes to prevent food and liquid from moving out of the stomach and back up the esophagus.
Abnormalities with peristalsis and LES function may cause symptoms such as swallowing difficulty, heartburn, or chest pain. Information obtained from manometry may help doctors to identify the problem. The information is also very important for surgery to treat reflux.
Before you have an esophageal manometry test, be sure to tell the doctor if you are pregnant, have a lung or heart condition, have any other medical problems or diseases, or if you are allergic to any medications.